Viking Pump Part 3-563-203-563-00 - Steel Rotor And Shaft With A .555" Tooth 3.88" Long, Stepped Shaft And A Flat On End For The Following Pump Models: Fh56, 74, 456, 474, 456-X, 474-X
Viking Pump Part 3-563-203-563-00 - Steel Rotor And Shaft With A .555" Tooth 3.88" Long, Stepped Shaft And A Flat On End For The Following Pump Models: Fh56, 74, 456, 474, 456-X, 474-X
3-563-203-563-00
MFG #: 3-563-203-563-00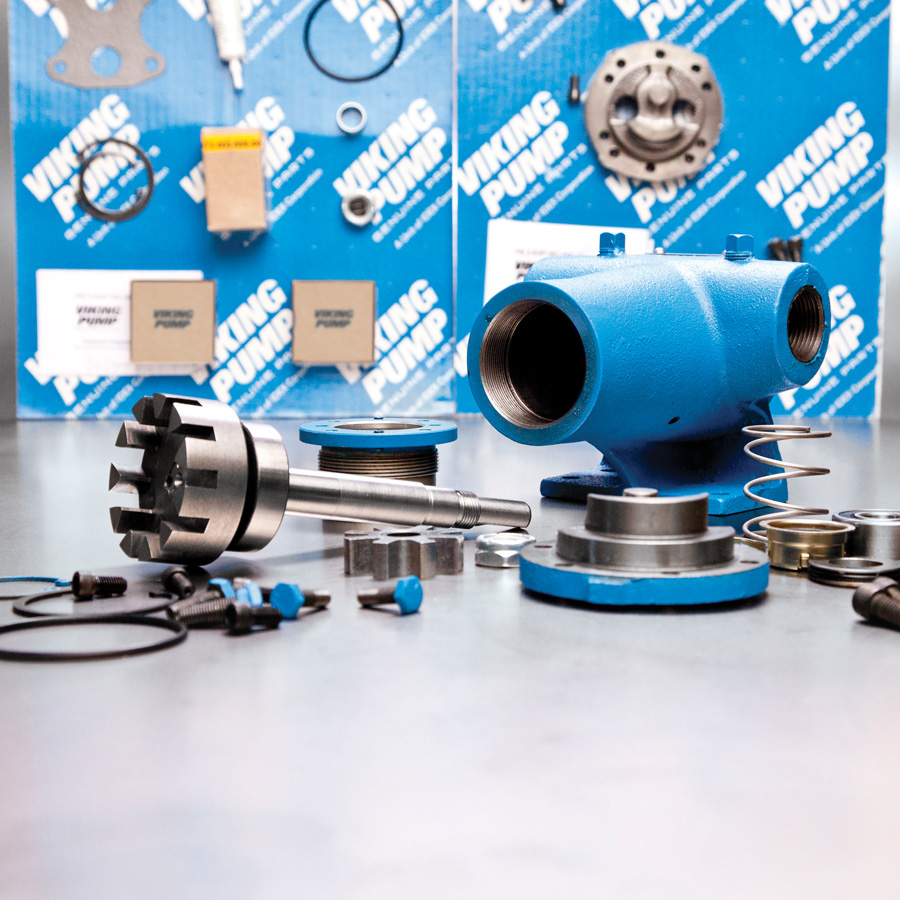 Series:

Viking Pump Repair Parts

States:

GA, NC, SC, TN

Summary:

GENUINE OEM Viking Pump Parts. Contact us for complete BOM for your pump and component part verification.

Type:

Reducer
Details
Industry / Applications
Videos
Viking Short Name
Why Buy Genuine OEM ?
GENUINE OEM VIKING PUMP PARTS FROM AUTHORIZED DISTRIBUTOR. Steel Rotor And Shaft With A .555" Tooth 3.88" Long, Stepped Shaft And A Flat On End For The Following Pump Models: Fh56, 74, 456, 474, 456-X, 474-X
Industry application include Plastics, Abrasives, Sealants, Adhesives, Agricultural, Asphalt, Biodiesel, Brewing, Beverage, Chemical, Chocolate, Ethanol, Fats & Oils, Fiber, Food, Fuels, Fuel Oils, Oil Production & Refining, Paints & Coatings, Personal Care Products, Pharmaceuticals, Polymers, Polyurethane foam, Printing Inks, Pulp & Paper, Refrigeration, Rubber, Sugar, Soaps & Detergents, Water Treatment, Wind Power.
R/S Stst 3-7/8L Foe Fh56M
Using Viking Genuine OEM Parts ensures that your pump will work at the highest level of efficiency possible Ordering Viking Genuine Parts provides you with the parts needed to make your repair Our dedicated team of application engineers will help to make sure the parts you need are the right fit for your application Viking Pump Genuine Parts can be purchased individually or in convenient part kits Seal, Rebuild, Bearing, O-ring and other kits simplify general maintenance or a complete rebuild, from ordering and stocking to installation Genuine OEM Viking Parts Advantages Quality Extensive quality control Get the performance you expect Viking Genuine Parts are made with highly calibrated machines to ensure optimum reliability Design Factory-made to ensure it meets the exact requirements for your pump Parts available individually or in kits Genuine Parts are application-specific to meet your unique conditions Only Viking Genuine Parts are specifically designed to meet performance requirements for Viking pumps Support Local distribution to ensure fast delivery and service Viking backs all Genuine Parts with its own warranty and distributor network Viking Pump Part Kits Advantages Everything you need in one package Factory recommended parts to ensure repair is done correctly Kits available in Seal, Rebuild, Bearing and O-ring configurations Save time & money Viking Pump kits make rebuilds easier and more cost effective.  Average savings of 35% to rebuild instead of replace Reduce costly downtime Helps your repair technicians to know exactly what parts are needed to ensure your pump is working at peak performance Maximize service life Using Viking Genuine Parts ensures your pump will work to the technical specifications