Shannon Thermal Blanket Systems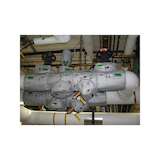 :

The Shannon Thermal Blanket is a high quality insulation, custom-fit to match gate valves, pressure reducing valves, flanges, strainers, steam traps, heat exchanger heads, boiler heads, PRV stations, condensate pumps and similar equipment.

States:

NC, SC, VA
Shannon Thermal Blanket Systems deliver energy savings on steam systems. The Shannon Thermal Blanket is a high quality insulation, custom-fit to match gate valves, pressure reducing valves, flanges, strainers, steam traps, heat exchanger heads, boiler heads, PRV stations, condensate pumps and similar equipment.
The Shannon Thermal Blanket Insulation is a CAD designed, CNC produced, high quality pre-engineered insulation system designed to save energy, capture radiant heat, minimize insulation maintenance and improve the surrounding work environment. Shannon Thermal Blanket is capable of withstanding severe indoor and outdoor environments. Shannon Thermal Blanket is flexible, easy to install, remove and reinstall, allowing quick access and easy equipment serviceability. The key benefit is re-usability.
Applications include: valves, fittings, piping, steam traps, steam valves, pumps, equipment, equipment heads, steam turbines, gas turbines and engine exhaust.
Energy Saving
Removable & truly reusable (all insulation is removable)
Custom-fit & CAD designed to match geometry (highest probability of reuse)
Excellent thermal insulation performance (backed by ASTM testing)
Easy off & easy on integral fasteners
Self contained insulation system
Each blanket includes a metal id tag
Each blanket includes a low point drain grommet
Double sewn construction to last 15 years and beyond