Micropump Magnetic Drives and Air Motors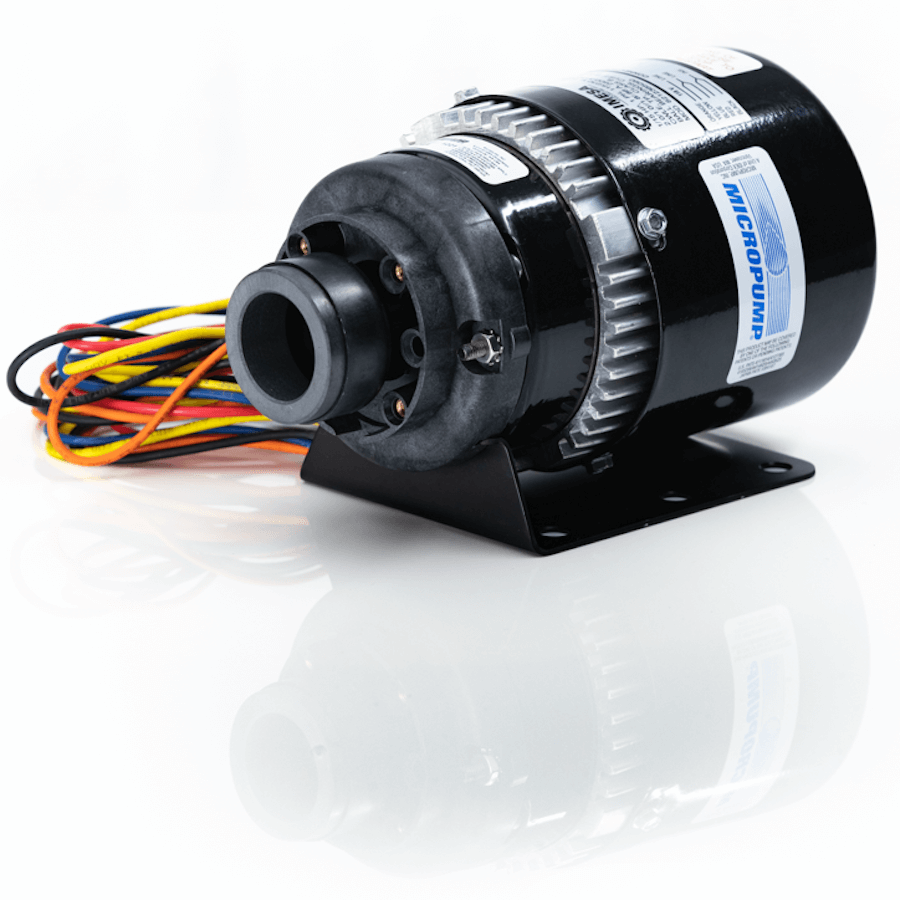 States:

GA, NC, SC, TN, VA

Summary:

Micropump offers Magnetic Drives, Electromagnetic drives as DC drives, AC drives, and Air Motors.
Details
Industry / Applications
Micropump offers Magnetic Drives, Electromagnetic drives as DC drives, AC drives, and Air Motors.
Micropump Magnetic Drives
Magnetic drive pumps consist of two magnets - a drive magnet placed on the motor shaft which initiates motion to a driven magnet completely sealed within the pump head and connected to the driving gear. The driven magnet is a wetted component and is totally encapsulated. The two magnets automatically couple such that the drive magnet turns the driven magnet and gears without physical contact. Also known as magnetically coupled pumps, these vary from the traditional direct mechanical shaft style with the elimination of any required shaft sealing.
Magnetic drive pumps also feature better transfer of motor power to the pump and little to no heat transfer from the electric motor. Also, the magnetic coupling softens any shock or spike torques, and in instances where the load may become too great, magnetic couplings can temporarily de-coupled instead of damaging the pump.
Magnetically driven gear pumps can provide a superior solution due to lack of dynamic seals, smooth flow, self-priming capabilities, a direct relationship between pump rotational speed and flow, and small sizes for a variety of applications. Due to the lack of dynamic seals, magnetically driven gear pumps are ideal in applications with no tolerance for leaks or potentially difficult to seal liquids. Additionally, the seal-less design doesn't require maintenance events such as flushes for difficult fluids, pump trips, replacement, or other unscheduled downtime. The elimination of seals is a great improvement for performance, reliability, and availability of our magnetically driven gear pumps.
Our magnetically driven gear pumps can be manufactured to close tolerances to achieve optimal, repeatable performance. Micropump's magnetically driven gear pumps can be driven by a variety of different means including AC motors, DC brush motors, DC brushless and stepper
Micropump Electromagnetic Drives
The Micropump EagleDrive™ was created to integrate the pump and motor for an optimized design. By eliminating the need for the hub assembly and adapter, the size envelope is reduced further and decoupling is eliminated. Reliability is even more improved with the lack of moving parts in the drive.
EagleDrive™ Benefits:
No moving parts for reliability and longer life
Low power consumption and compact size for efficient system integration
With the drive and pump integrated in a single, compact unit, the EagleDrive™ is an ideal solution to solve many of the previous shortcomings of separate units. The rotating electromagnetic field, which is induced in the fixed and stationary stator by a controller, couples with and turns the permanent magnet sealed inside the pump. The controller offers thermal and overload protection to the drive. It allows for an external control signal (0-5 VDC) to provide adjustable speed and as a result, regulate pump flow. The close coupling of the pump and motor allows sealing between the pump and drive against ingress of water and dust to protect the internal pump and drive components.
Aerospace and Aircraft
Automotive
Biotechnology
Chemical Processing
Clinical and Analytical Lab
Electronics
Energy/Fuel
Environmental
Food and Beverage
General Industry
Medical Equipment and Devices
Paints and Inks
Pharmaceutical and Cosmetics