Powerblanket Industrial Heating Blankets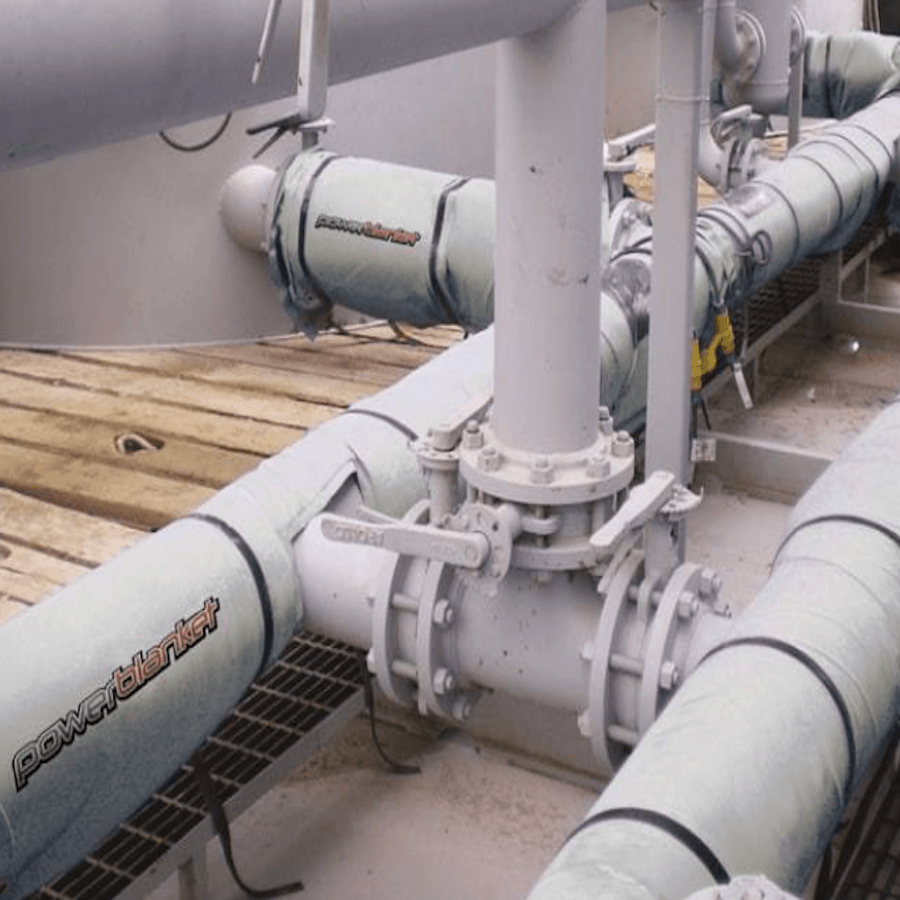 States:

NC, SC, TN, VA

Summary:

Powerblanket protects equipment and fluids from freezing or overheating, prevents project setbacks and unnecessary costs, and provides total temperature control.
Carotek offers a wide selection of Powerblanket products to meet our commercial and industrial customer needs – even custom heater blankets for hard-to-fit equipment. Powerblanket custom solutions
Reduce downtime and increase profitability
Eliminate need for alternative emergency services or steamers
Protect instrumentation from freezing for accurate data retrieval
Sustain valve functionality
Save on labor costs through easy installation and removal
Custom designs to fit any application
Powerblanket's world-class engineering team creates custom solutions for some of the most complicated and/or unusual temperature needs for industries all over the world--and they do it quickly. Often, when your industry is unique, there is not a ready-to-ship solution for your specific temperature needs. Our products are certified to OSHA safety standards and are easy to install, use, and store. Our custom approach will provide the ideal custom solution that saves time, money and headaches.
Pipe heaters
Valve heaters
Chemical tank heaters
Welding blankets
Frac tank heaters
Satellite Dish heating blankets
Equipment box heaters
Chutes and hopper heaters
Hazardous location heaters
High temperature applications
Powerblanket Pipe Heaters
Weatherproof your business with Powerblanket pipe heaters. These advanced heaters offer freeze protection for your entire pipe & manifold system. The simple design eliminates the need for expensive work crews to install or remove heat trace, insulation and cladding. Unlike heat trace, Powerblanket does not have inrush current issues. Valve, manifold, and pipe heaters are custom designed by Powerblanket's world-class engineers to fit perfectly on your piping system.
Powerblanket Valve, Actuator & Instrumentation Freeze Protection
Freezing conditions and cold weather negatively impact critical materials and equipment. Exposure to extreme temperatures throughout the winter months can slow or halt operations. Powerblanket protects valuable equipment and fluids from freezing or overheating, and prevents project setbacks and unnecessary costs associated with adverse conditions by providing total temperature control. Powerblanket products can help you protect your critical assets against the threat of failure, downtime, and hazardous conditions.
Even and efficient heating cures epoxy effectively
Best in industry lead time with new custom designs in 1-2 weeks
Eliminates the need for costly alternative heating solutions
Decreases curing times allowing increased throughput
Can be used for production and in field repair
Longest lasting curing blankets on the market
Save labor costs and downtime through easy installation, removal and reinstall
Protect down to -40°F/-40°C
Highly efficient and evenly-distributed heat
Ability to meet CID2 hazardous location requirements
Wind and water resistant
Ensure smooth operation
Custom designed to fit your specific needs
Certified to UL/CSA standards
Industrial Tank Heaters
Tank Heaters maintain temperature, heat, provide freeze protection, or optimize flow for viscous and temperature sensitive materials. Custom designed to fit any equipment or system and provide ultimate freeze protection because your valuable materials are protected.
1-2-5 gallon bucket heaters
15-30-55 gallon drum and barrel heaters
250-275-330-350-550 gallon tote heaters
Bulk material warmers
Powerblanket Drum and Bucket Heater Blankets
Drum heaters are one of the most popular lines of Powerblanket products. The innovative design has changed the conventional method of heating materials by providing targeted and evenly distributed heat to the surface of the drum, thus eliminating hot and cold spots.
Work on both steel and poly drums
Provide an insulated, full-wrap design
Deliver safe, distributed heat to temperature sensitive materials
Preserve expensive materials without overheating or burning
Prevent product waste by safely maintaining consistent temperatures
Improve viscosity and flow with easy-to-apply controlled heat
Tote and Def Tote Heater Blankets
Powerblanket tote heaters maintain optimal heating conditions for temperature sensitive materials and solve viscosity issues. Powerblanket DEF tote Heaters are temperature specific to protect Diesel Exhaust Fluid from freezing. Whether you need temperature control for storage or active use, Powerblanket tote heaters will make a difference.
Preserve temperature sensitive materials
Quickly and effortlessly install the compact portable design
Localize heat and save money by not heating a warehouse or building
Lower energy-related costs with the highly efficient design
Bulk Material Hot Boxes and Warmers
Powerblanket Hot Boxes efficiently heat temperature sensitive materials such as paints, roofing materials, chemicals, epoxies, resins, equipment, and pallets of any material. Easily moved from job to job, hot boxes are ideal for cold weather storage, freeze protection, transporting, job site heating, remote location use, and winter roofing.