Hardy E-Scale IIoT-ready Bench with Weight Processor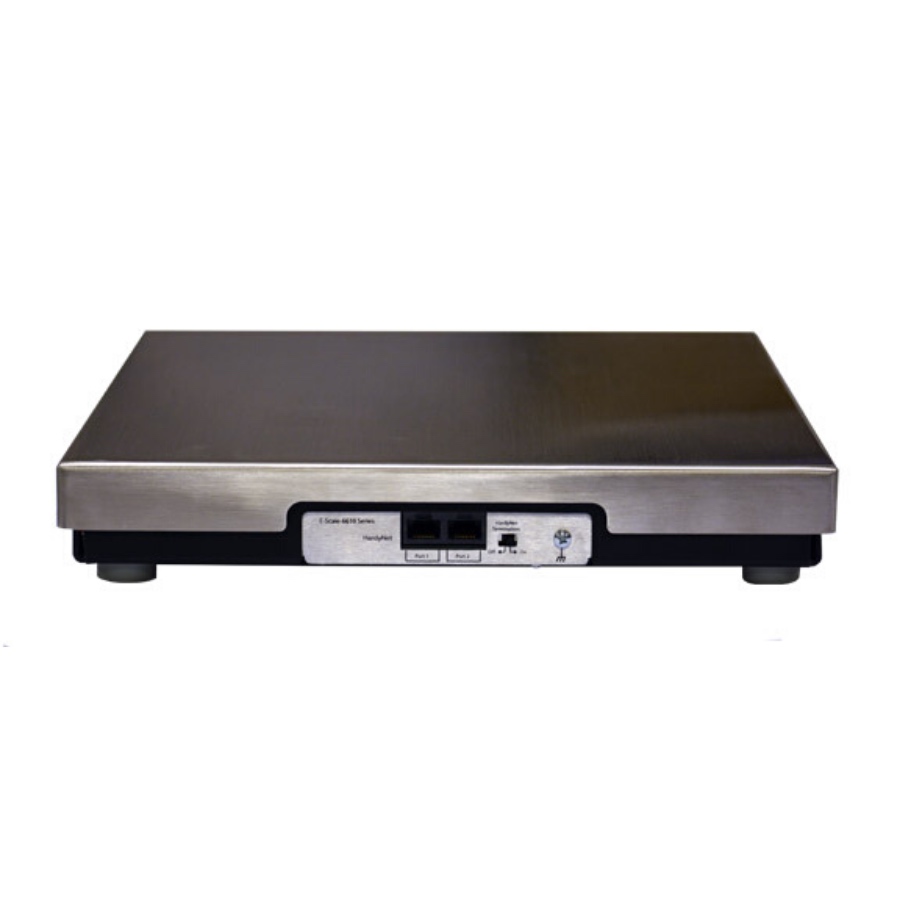 :

The Hardy E-Scale Bench scale series is the world's first IIoT-ready (Industrial Internet of Things) scale base. It includes an integrated Hardy weight processor for direct network connection to Fieldbus networks.

States:

GA, NC, SC, TN, VA
Details
Industry / Applications
IIoT READY INTELLIGENT SCALE WITH INTEGRATED COMMUNICATIONS
The Hardy E-Scale Bench scale series is the world's first IIoT-ready (Industrial Internet of Things) scale base. It includes an integrated Hardy weight processor for direct network connection for either EtherNet/IP® or Profibus-DP® networks. Depending on configuration, the E-Scale offers complete flexibility in size and capacity for use in a wide range of weighing applications.
E-Scales eliminate possible failure points and save the cost of extra splice-boxes and other components.
The latest E-Scale design brings power and networking connections out to the edge of the scale for a fully plug-n-play experience by the user.
With their rugged construction and stainless steel tops, E-Scales are a great fit for dry food processing, laboratory and industrial installations.
The E-Scale line of bench scales comes in a variety of configurations with a built-in interface for direct connection to a PLC, PAC, DCS or PC.
All E-Scales come standard in 12"x12" and 24"x24" sizes, and range in capacity from 33 lbs – 1300lbs (15 kg to 600 kg).
The covers are all stainless steel for durability. The bases have no bearings, spirit levels, or moving parts that can be damaged or wear out.
They come standard with Hardy Process Toolbox features, including Waversaver®, C2®, Webserver, and Rockwell Automation integration tools such as Faceplates, and Add-on-profiles.
E-SCALE-6500
IIoT ready scale with integrated weight processing and communications. No DIN or panel space is required. The E-Scale-6500 delivers stable processed weight with a resolution of 1:10:000, and an update speed of 110 updates per second (processor, display and comm.). Communications protocols supported include: EtherNet/IP (-EIP models) Ethernet UDP Ethernet TCP/IP(Embedded Webserver) Modbus RTU Modbus TCP (-EIP models) Profibus-DP (-PB models). User must supply 24VDC to the scale.
E-SCALE-6510
The New E-Scale-6510 has all the great features of the E-Scale-6500 but adds an Analog 4-20 mA port.  It is designed for sites that are still using Analog communications but plan to upgrade to EIP in the future, providing a clearly designed upgrade path. The E-Scale-6510 delivers accurate, stable and fast processed weight and includes Hardy Process Toolbox Features, including C2, Waversaver and IT. User must supply 24VDC to the scale.
E-SCALE-6610
Capable of powering up to 20 scales daisy chained up to 50 ft from beginning to end to a single Hardy HI 6600 Gateway Module. The Gateway Module provides a Single Ethernet connection back to the PLC/PAC or PC – No additional power is required! Gateway Module has an optional panel mount multichannel display that can be used to operate connected E-Scales. HI6600 Gateway communications include: EtherNet/IP (-EIP models) Profibus-DP (-DP models) Ethernet TCP/IP(Embedded Webserver) Modbus RTU Even in noisy environments with excessive amounts of mechanical vibration, the E-Scale-6610 provides a steady 1:10:000 resolution with 110 updates per second over its variety of communications protocols. Requires a Hardy HI 6600 Gateway Module.
Hardy Process Solutions Applications
Food & Beverage
Consumer Packaged Goods
Chemical & Petrochemical
Life Sciences
Mining & Minerals
Metals
Building Materials