Grundfos DSS Pre-Engineered Floor or Panel Dosing System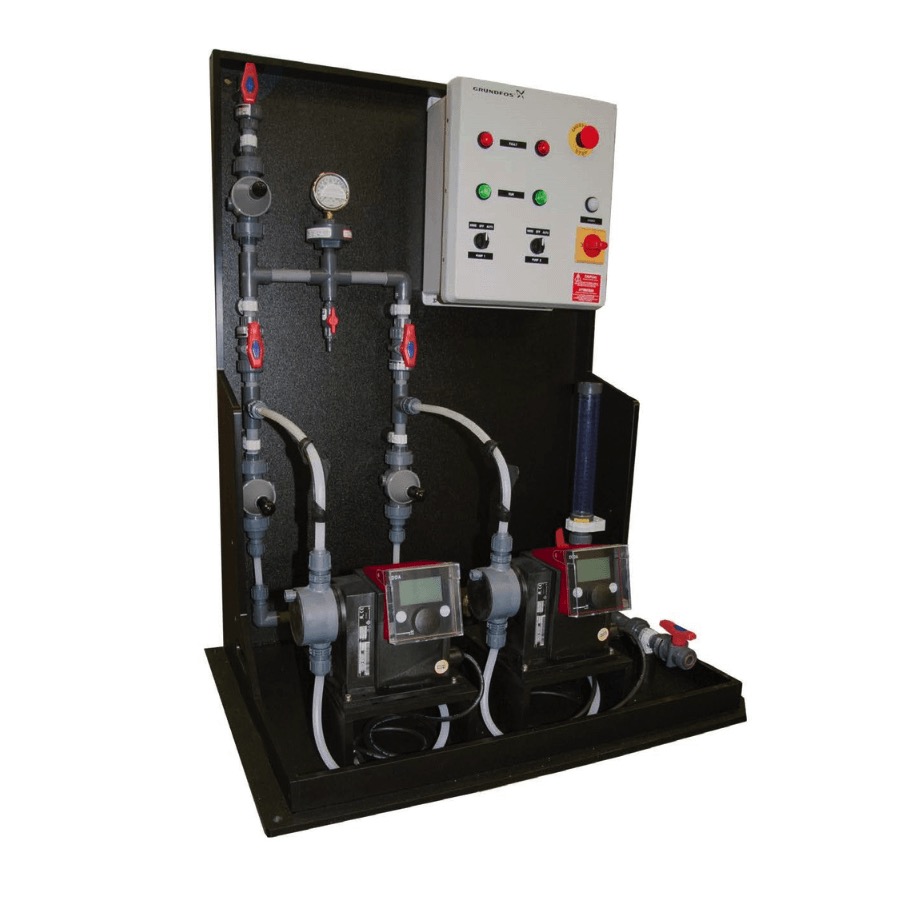 States:

NC, SC, VA

Summary:

Contact Carotek for Grundfos DSS Pre-Engineered Floor or Panel Dosing System with integrated controls and one, two or three pump configurations designed to accurately meter liquid chemicals for a variety of water supply/treatment systems, as well as indus
Details
Industry / Applications
Steam Services Offered
About Grundfos DSS Pre-Engineered Floor or Panel Dosing System
The DSS is a pre-engineered floor or panel dosing system package that offers integrated controls and one, two or three pump configurations designed to accurately meter liquid chemicals for a variety of water supply/treatment systems, as well as industrial and manufacturing applications. At the heart of each DSS is the Grundfos metering pump: hydraulically actuated and mechanically actuated pumps including SMART Digital Dosing pumps with stepper motor technology offering up to 3000:1 flow turndown..
We PACKAGE the benefits of the SMART DIGITAL, DMX and DMH technologies into convenient, plug-and-pump systems.
Key Features & Benefits
Grundfos SMART Digital Dosing pumps provide precise performance and reliability in a complete solution
Available in one, two and three pump system configurations making the system suitable for a broad scope of applications
Plug and pump solution ensures quick and easy installation
Pre engineered system allows quick delivery, even for customized skids
Factory tested to the highest standard to ensure trouble free installation
Floor and wall mount provides a wide range of flexible installation solutions
User friendly panel options: junction, HOA, plug only, and none
Control cables options: analog/pulse/stop input, relay output and analog output
Durable materials include PVC/CPVC pipe and EPDM/Viton gaskets
Available with or with pulsation dampener
ISO certified manufacturing options
Applications
Sodium hypochloride
Sodium bisulfate
Alum
Potassium permanganate
Sodium hydroxide
Acids
Anti-scalants
Custom ETO Dosing Skid Systems
We understand that there are applications and installations that require a completely unique Engineered to Order (ETO) solution for project-based work. The custom DSS may be constructed in nearly any configuration and include any dosing pump offered by Grundfos. The Custom ETO systems are reliable solutions built with Grundfos quality and sure to meet your project needs.
Sodium hypochloride
Sodium bisulfate
Alum
Potassium permanganate
Sodium hydroxide
Acids
Anti-scalants
Carotek offers a variety of Steam System Services to ensure your Thermal Systems (Steam/Hot Water) are operating at peak performance. These services help reach your goals of maximizing energy efficiency, process efficiency, safety, and reliability.
Whether it is for Industrial heating or cooling, Commercial HVAC, Domestic Hot Water, Humidification, Equipment Washdown, or Water Pressure Boosting, Carotek offers the expertise, products, and services to assess your needs and provide cost effective solutions. We have partnered with industry leading manufacturers such as Armstrong International, Grundfos, Shannon Global Energy, Intellihot, and others to bring you the best product and service results.
We offer
Decarbonization Roadmaps
Energy Audits
Thermal Utility Assessments
Detailed Thermal Design Engineering
Steam Trap Surveys
Steam Trap & Hot Water Monitoring
Steam System Management (Steam as a Service)
Thermal System Training - both online and in person
Review these services and contact us for more information.