Grundfos CMBE Single Pump Package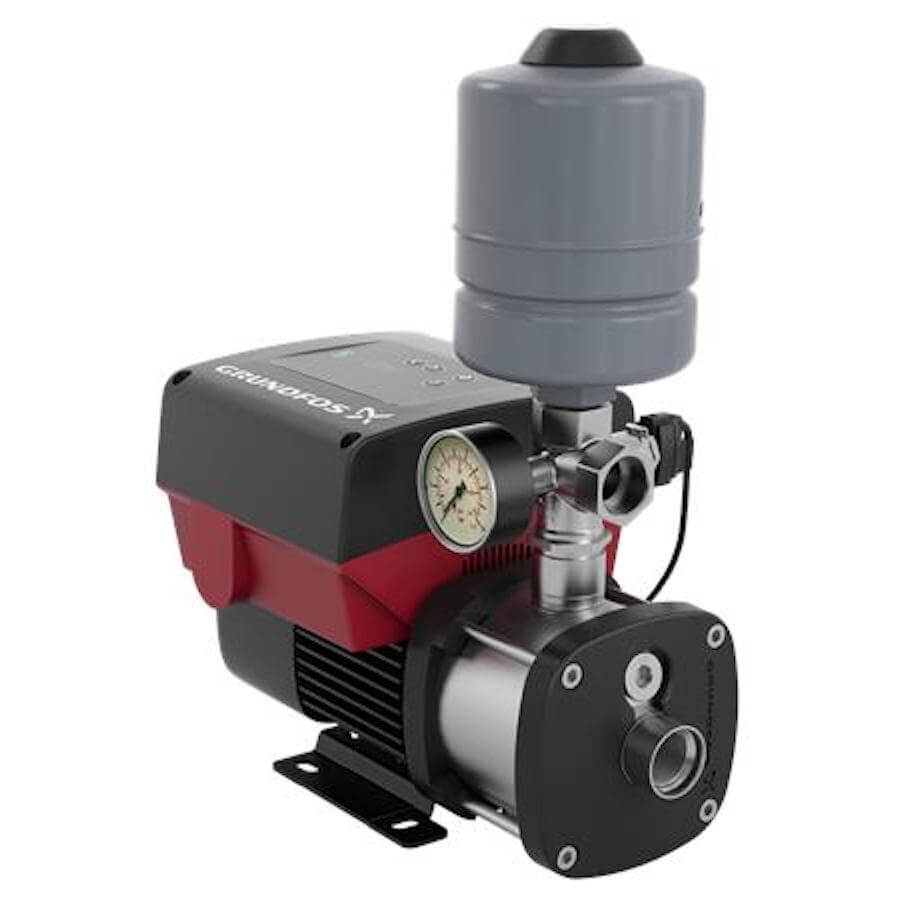 States:

NC, SC, VA

Summary:

Grundfos CMBE Single Pump Package for industrial applications, supply, pressure boosting, and dewatering.
Details
Industry / Applications
Steam Services Offered
About Grundfos CMBE Compact Boosting Single Pump System:
Although the CMBE Booster was designed for residential and commercial, it is used for industrial applications, and also for supply, pressure boosting, and dewatering.
The CMBE pre-engineered series is available in both 1x110-120V and 1x200-240V variants and uses energy efficient, permanent magnet motor technology, which provides unmatched reliability, quiet operation, and energy savings.
Thanks to the integrated speed controller, the CMBE keeps a constant pressure in the piping system. A pressure sensor monitoring discharge pressure will signal to the speed controller to change the motor speed to adapt the performance to the new situation.
Key Features & Benefits:
All-in-one solution including pump, motor, tank, pressure and flow sensor, controller and check valve
Constant pressure and commercial grade quality in one compact system
Reliable and easy to install
Highly efficient ECM motor reduces operating costs
Variable Frequency Drive (VFD) with built in PI controller
Grundfos manufactures all CMBE component
Optimized and simple to use controller
Communication capable with CIM cards
Simple selection guide to size correct pump
Low noise (55dB or less in typical use)
Drinking water NSF 61/UL 372 approved
Attributes:
Working pressure max 145 psi
Suction lift max. 23ft including suction-pipe pressure loss at a liquid temperature of 68°F
Liquid temperature 32°F to 140°F
Applications:
Residential and commercial water supply
Pressure boosting
Irrigation
Dewatering
Residential and commercial water supply
Pressure boosting
Irrigation
Dewatering
Carotek offers a variety of Steam System Services to ensure your Thermal Systems (Steam/Hot Water) are operating at peak performance. These services help reach your goals of maximizing energy efficiency, process efficiency, safety, and reliability.
Whether it is for Industrial heating or cooling, Commercial HVAC, Domestic Hot Water, Humidification, Equipment Washdown, or Water Pressure Boosting, Carotek offers the expertise, products, and services to assess your needs and provide cost effective solutions. We have partnered with industry leading manufacturers such as Armstrong International, Grundfos, Shannon Global Energy, Intellihot, and others to bring you the best product and service results.
We offer
Decarbonization Roadmaps
Energy Audits
Thermal Utility Assessments
Detailed Thermal Design Engineering
Steam Trap Surveys
Steam Trap & Hot Water Monitoring
Steam System Management (Steam as a Service)
Thermal System Training - both online and in person
Review these services and contact us for more information.