Grundfos CMBE Twin Booster Pump System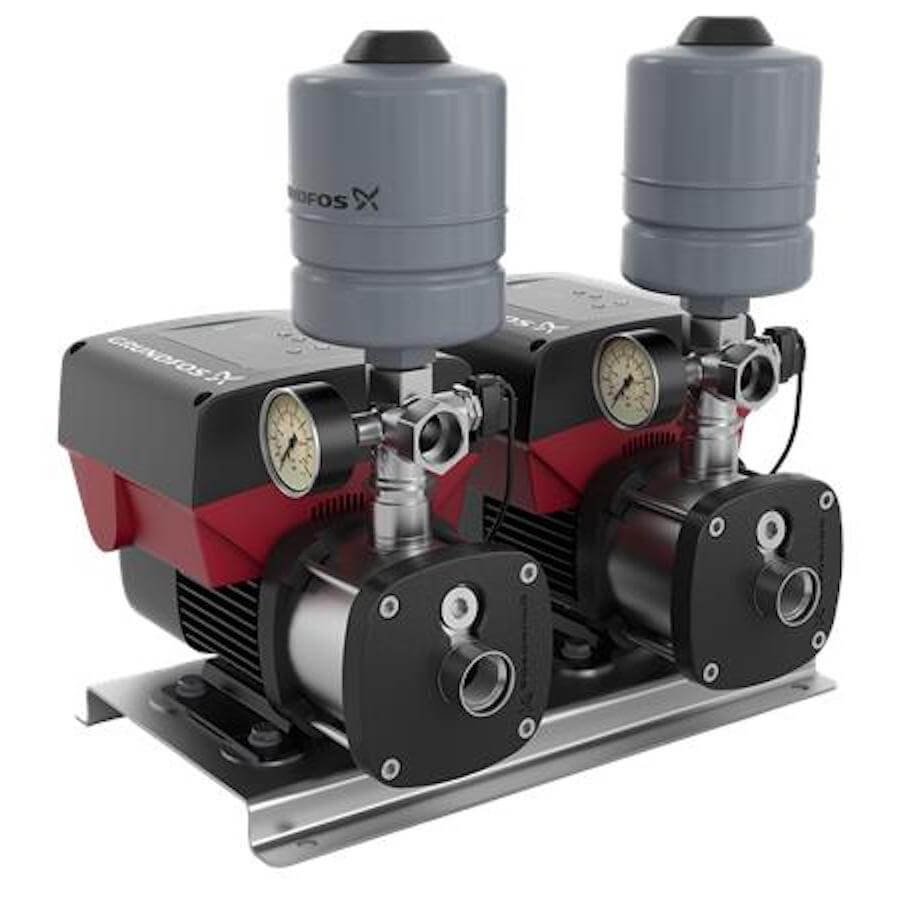 States:

NC, SC, VA

Summary:

Grundfos CMBE Twin Booster Pump System for water supply and commercial boosting applications.
Details
Industry / Applications
Steam Services Offered
About Grundfos CMBE Twin Compact Boosting Multiple Pump System
The Grundfos CMBE Twin is a booster pump for water supply and commercial boosting applications. The CMBE Twin Booster system consists of two CMBE pumps connected in parallel and mounted on a base plate with a Grundfos built manifold. The CMBE pumps will alternate to ensure the same number of operating hours until high flow is needed, and the pumps will run together.
The CMBE twin offers constant pressure and high comfort thanks to the variable-speed motor, noiseless operation and built-in protection against dry running. A pressure sensor monitoring the discharge pressure allows for the CMBE twin to adjust motor speed or signal for the second pump to start, adapting to changing system demands.
The integrated speed control enables the CMBE to maintain a constant pressure in the pipe system and offers a solution for a variety of applications.
Key Features & Benefits
Cascade control - ensures that pump two starts in case high flow is needed
Pump alternation - keeps operating hours even between the pumps
Multi-Master - both pumps can be the control unit
Dry running protection
Grundfos manufactures all CMBE Twin components
All-in-one solution including pump, motor, tank, pressure and flow sensor, controller, check valve, fuse box, base plate and manifold
High efficiency ECM motor
Available in three different CMBE sizes
Available in both 1x115V and 1x200-240V
Communication capable with CIM cards
Wireless communication between the two CMBE pumps
Low noise (57dB or less in typical use)
Attributes
Working pressure max 145 psi
Suction lift max. 3.28ft including suction-pipe pressure loss at a liquid temperature of 68°F
Liquid temperature -22°F to 248°F
Applications
Residential and commercial water supply
Pressure boosting
Irrigation
Residential and commercial water supply
Pressure boosting
Irrigation
Carotek offers a variety of Steam System Services to ensure your Thermal Systems (Steam/Hot Water) are operating at peak performance. These services help reach your goals of maximizing energy efficiency, process efficiency, safety, and reliability.
Whether it is for Industrial heating or cooling, Commercial HVAC, Domestic Hot Water, Humidification, Equipment Washdown, or Water Pressure Boosting, Carotek offers the expertise, products, and services to assess your needs and provide cost effective solutions. We have partnered with industry leading manufacturers such as Armstrong International, Grundfos, Shannon Global Energy, Intellihot, and others to bring you the best product and service results.
We offer
Decarbonization Roadmaps
Energy Audits
Thermal Utility Assessments
Detailed Thermal Design Engineering
Steam Trap Surveys
Steam Trap & Hot Water Monitoring
Steam System Management (Steam as a Service)
Thermal System Training - both online and in person
Review these services and contact us for more information.