Industrial Control Valve Maintenance, Repairs and Replacement Programs - Costs and Benefits
What is the best maintenance program for industrial control valves?
How do you know when you should repair or replace your industrial control valves?
As plants age, more time and effort towards maintenance is necessary. According to Valve Magazine, more than half of the plants worldwide are over 20 years old. When issues related to safety, reliability, or maintenance occur, plant shut-downs required for repair can become costly and labor-intensive.
One way to limit unwanted costs and shutdown time is to plan for a shutdown. Shutdown planning is when you plan to shut down the plant for preventative and predictive maintenance. By planning for maintenance repairs, it is easier to schedule around the shutdown and determine costs in advance.
Carotek provides two Valve Maintenance programs through Flowserve that are well worth a look - the Repair by Replacement Program and the Quick Response Centers.
Flowserve Repair by Replacement Program
Flowserve Repair by Replacement Program addresses all time-sensitive repair needs while considering the overall cost and time involved in repairing older equipment. When deciding if your used equipment should be repaired, Flowserve has provided this decision tree to help determine your best course of action.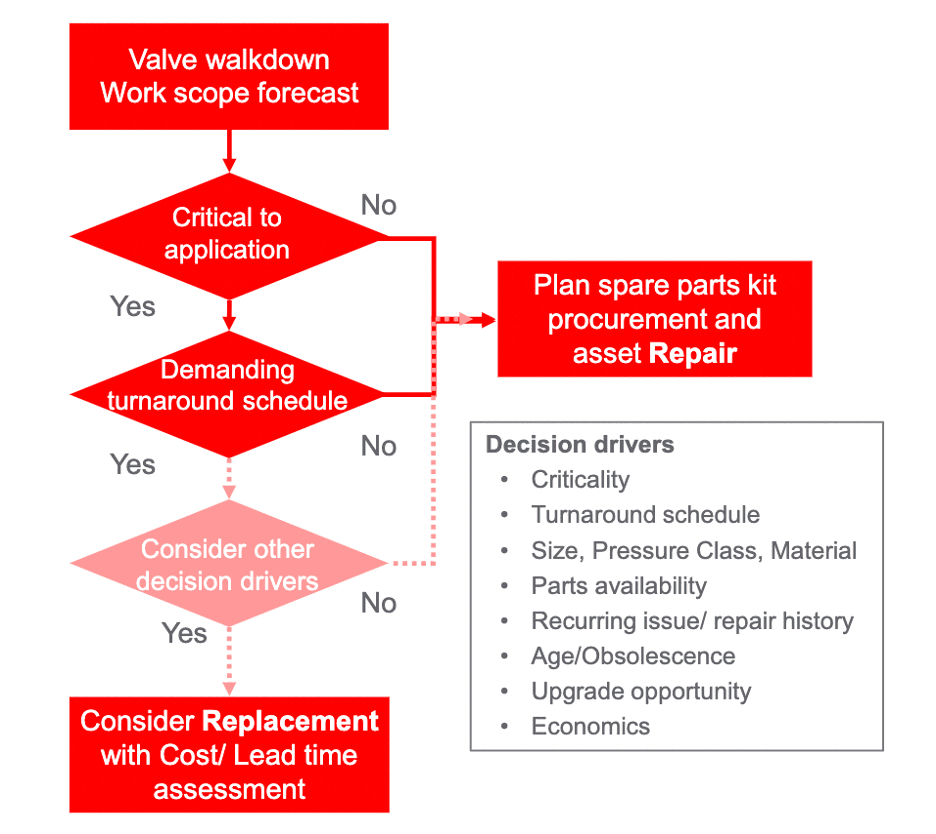 Flowserve Repair-by-Replacement programs can minimize schedule impacts, upgrade to the latest valve technology, and ensure a smooth turnaround changeout process that minimizes downtime.
Benefits of the Flowserve Repair-by-Replacement Programs:
Reduced overall project costs (Up to 30% savings vs. repair of older, worn equipment)and cost transparency
Minimized labor and logistics costs associated with repairs (one trip to unit savings)
Standardization – optimized number of OEM equipment and components
Improved reliability through the replacement of older and obsolete equipment
Compliance with the latest industry standards and upgrade to the newest technology including digital positioners
Repair by Replacement Program Scope:
Valve and actuation product replacement, typically valves <6 in, class 300
Access to Flowserve quick-ship program with delivery in North America and other selected regions within a week or less for control (Valtek) and on/off (Argus) valves
Unmatched engineering and field service expertise with dedicated project management team
Flowserve Quick Response Centers
We can provide timely support and same-day delivery of parts, repairs and in most cases, spare valves in 72 hours or less.
Quick Response Centers (QRCs) provide machining, repair, assembly, testing, automation packages and inventory to help quickly turn around any repair or remanufacturing project, including plant shutdowns.
QRC Core Capabilities:
Engineering support
In-shop services
On-site services
QRCs provide fast support on services and equipment such as:
Automation
Control valves
Engineered valves
Expertise
Setup
Available quick-ship deliveries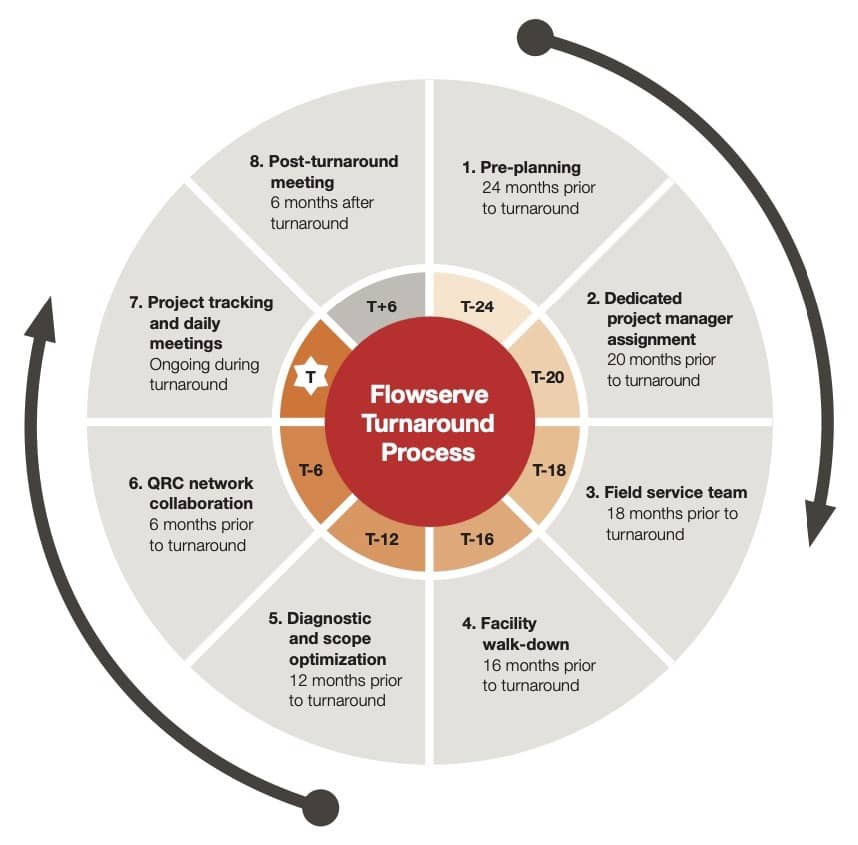 Turnaround Management the Flowserve way:
Thorough pre-planning alongside your team
Dedicated Flowserve project manager assigned to you
Field service team works on-site or in our shop as needed
Facility survey and walk-down to assess work and resources required to complete the project on schedule
Diagnostic and scope optimization and pre-ordering of materials to minimize discovery work
Collaboration among our Quick Response Centers and Certified Service Centers to provide the solutions you need
Project tracking and daily meetings to ensure agreed-upon timeline and requirements are met
Post-turnaround assessment to confirm that work has been completed to your satisfaction
Why Flowserve Quick Response Centers for your Valve Repairs?
OEM quality, regardless of OEM :
We repair control, quarter-turn, automated and manually operated valve packages from all major manufacturers.
Performance Testing and Certification :
At Flowserve, each new and repaired valve is stroked, seat leak tested, hydrotested and quality inspected to our rigorous standards.
Remote IIoT Assistance with Valve equipment issues:
By utilizing real-time audio and video communications, our remote assistance services can provide the abilities to point, annotate and share documentation with your team.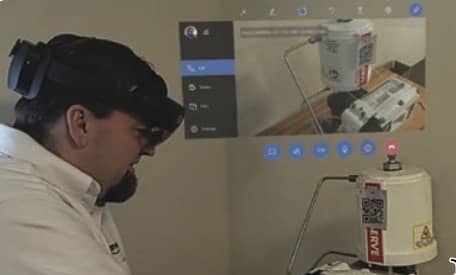 Upgrade to digital :
If you're looking to upgrade your analog controls to state-of-the-art digital technology, application engineers at our Quick Response Centers and network of Certified Service Centers can assist with the re-instrumentation of all major third-party control valves and their positioners.
Reduce your Total Cost of Ownership :
With a LifeCycle Advantage service contract, we will partner with you to realize improvements in operational efficiency with measurable cost savings.
Training and Educational :
Whether your workforce needs basic training or customized programs, Flowserve offers an unparalleled global network of flow equipment experts and facilities to accommodate virtually any training request.
16 Service Locations to Serve You - Nationwide