Viking Pump Model FH456 Cast Iron Gear Pump 4-0655-1733-524
Viking Pump Model FH456 Cast Iron Gear Pump 4-0655-1733-524
4-0655-1733-524
MFG #: 4-0655-1733-524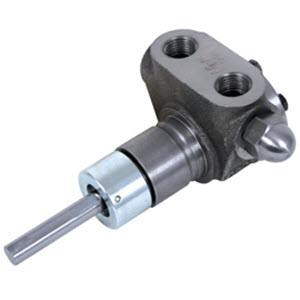 Note:

Contact us for serial number cross reference to model number as well as special job quotes.

States:

NC, SC, GA, TN

Summary:

Viking Pump FH456 Motor Speed - Port 0.5" NPT Top - Cast Iron Externals - FKM Seals - FlowMin 0 GPM FlowMax 3 GPM - PressureMax 250 PSI - Relief Valve

Series:

56 / 456 Series Viking Motor Speed Pump

Type:

Motor Speed
Details
Series Info
Industry / Applications
Resource Links
FH456 Viking Motor Speed Pump Specifications
| | |
| --- | --- |
| Port Size | 0.5" |
| Port Type | NPT |
| Port Orientation | Top |
| Externals | Cast Iron |
| Seal Type | Mechanical Seal |
| Seals | FKM |
| Flow Min | 0 GPM |
| Flow Max | 3 GPM |
| Pres Max | 250 PSI |
| Valve | Relief Valve |
| Gears Rotor Idler | Steel / Steel |
| Shafts | Steel |
| Idler Pin | Nitralloy |
| Idler Bushing | None |
| Shaft Bushings | Carbon Graphite |
56 / 456 Series Viking Motor Speed Pump Product Line details
The 456 Motor Mounted units answer the need for more compact, lighter weight equipment. They use the Series 456 hub type pumps with valves in casings and are mounted to modified NEMA "C" flange motors.
Units are available with ¼, ⅓, ½ or ¾ HP, 1 ph, 1200 RPM or 1800 RPM, special shaft, TEFC or explosion proof motors.
All sizes use the mounting flange bracket with pump connected to motor through a coupling. The pump can be turned on the bracket to any position desired.
Series 456 pump models are available with Underwriters label (UL343) for handling fuel oil. Model numbers for these pumps must be designated by a suffix -X. "UL" listed models must be equipped with integral relief valve.
Industry application include Plastics, Abrasives, Sealants, Adhesives, Agricultural, Asphalt, Biodiesel, Brewing, Beverage, Chemical, Chocolate, Ethanol, Fats & Oils, Fiber, Food, Fuels, Fuel Oils, Oil Production & Refining, Paints & Coatings, Personal Care Products, Pharmaceuticals, Polymers, Polyurethane foam, Printing Inks, Pulp & Paper, Refrigeration, Rubber, Sugar, Soaps & Detergents, Water Treatment, Wind Power.
Access these resource files on Viking Pump primary site (will open in new window)