Valtek FlowTop V750/V752 Series Control Valve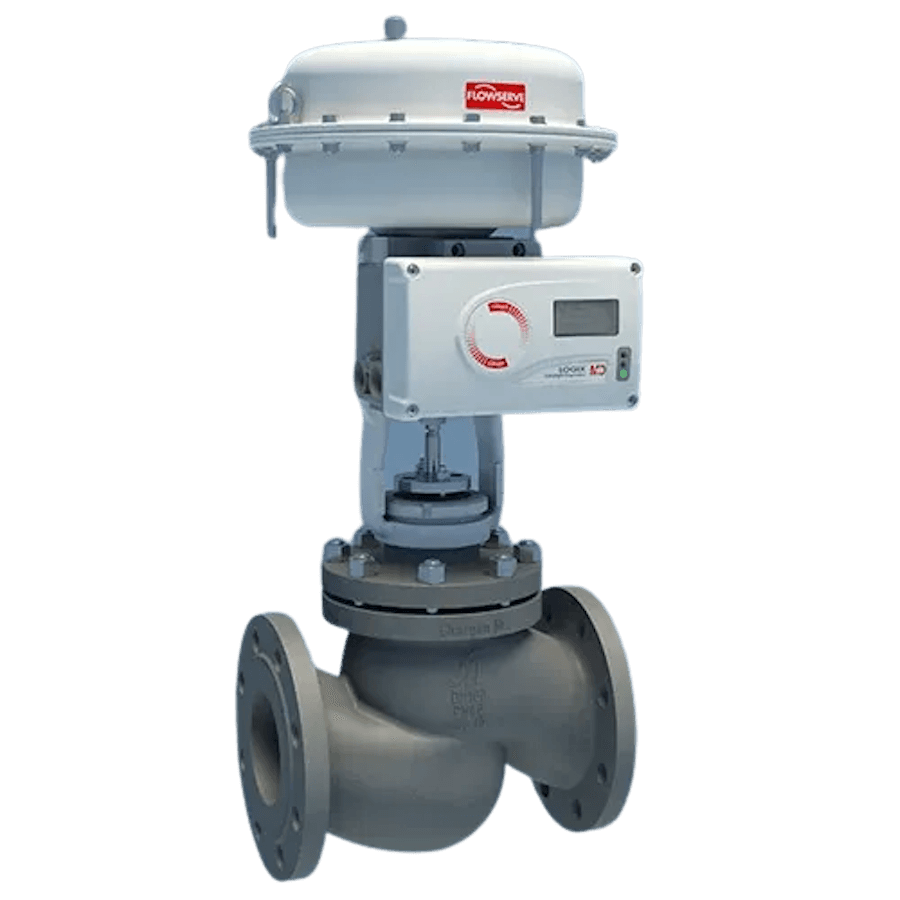 States:

NC, SC, VA

Summary:

The Valtek FlowTop design has been improved to meet global requirements for general service and moderately severe service applications.
Details
Industry / Applications
Valtek FlowTop V750/V752 Series
This Valtek FlowTop design has been improved to meet global requirements for general service and moderately severe service applications. This series features one standardized, versatile control valve with precision control and a variety of trim and packing options. The new FlowTop valve offers the same performance in an optimized easily-configurable package. This fully integrated package is available globally and includes an in-line globe-style body with a FlowAct pneumatic diaphragm actuator and digital positioner.
Key Features & Benefits:
Clamped seat ring design allows simplified maintenance, without special tools
Field reversible actuator allows for re-configuration as processes evolve
Wide-ranging application acceptability reduces the number of different valve models needed and allows for standardization of spares
State of the art Logix 3800 positioner platform includes features unavailable in competing positioner offerings from other manufacturers
Significantly reduced cost of ownership
Local inventory in Springville, UT and Boothwyn, PA for rapid order fulfillment
The Valetek FlowTop V750/V752 Series features a fully streamlined design to maximize performance and operating efficiency. The Valtek FlowTop is more versatile than every with multiple seat designs (threaded or clamped), packing options (external or internal live loaded), and single-stage trim solutions for mild cavitation and noise reduction. The updated design is easy to select, size, configure, and order to meet most general service requirements. Maintenance is easier than ever with interchangeable components, minimizing costs and simplifying ongoing care.
Attributes
Style: Globe, integral flange, ASME B16.34
Sizes: NPS ½ to 6
Pressure Classes: ASME 150 and 300
Temperature Range: Operating Temperature: -51F-797F Ambient Temperature: -40F-176F
End Connection: Flanged, raised face (RF)
Body Materials: ASTM A216 WCC, ASTM A351 CF8M, ASTM A351 CF3M
Face-to-face: ISA 75.08.01
Packing: External or internal live loaded
Bonnet: Standard, extended bellows seal
Trim Material: 316 SS, 316L SS, Alloy 6 overlay available on 316 SS and 316L SS
Low Noise and anti-cavitation: Class IV, V, and VI with optional soft seat
Actuation: Pneumatic diaphram spring actuator
Standard Positioner: Digital positioner, also available as integrally mounted to yoke for fail close air to open configuration; no tubing or bracket required

Valtek
Founded in 1965, Valtek valves are known for reliability, long life, parts interchangeability, ease of maintenance and prompt delivery. The following detailed information provides an overview of each product line. Contact Carotek for engineering support, technical assessments, reliability services and asset optimization to ensure your process application efficiency.
Power
Chemical
Water
General Industry
Oil/Gas