E+H Cerabar and Deltabar Pressure Measurement with IIoT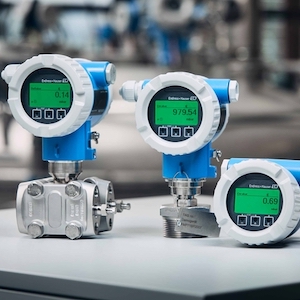 States:

NC, SC, VA, GA, TN

Summary:

Connect with IIoT, increase productivity and improve process safety with the new Cerabar and Deltabar pressure gauges.
Video
Details
Industry / Applications
Verification of pressure transmitters within three minutes while the process is running? We'll show you how.
The new Cerabar and Deltabar pressure gauges combine proven measurement technologies of Heartbeat Technology with IIoT applications. This enables predictive maintenance. Optimized maintenance processes as well as predictive maintenance increase plant availability and promote efficient personnel deployment. Digital wizards guide maintenance staff in a structured manner through safety-relevant operating processes and minimize human error. Process irregularities are detected early on. Unlock your IIoT potential, increase productivity and improve process safety with the new Cerabar and Deltabar pressure gauges.

Cerabar and Deltabar Pressure Device Benefits:
Improves your process safety through instrument guided SIL wizards, minimizing operator error
Increases your productivity with the SmartBlue app and Bluetooth integration. The app meets the increased safety requirements in industrial applications while allowing for easy operation
Unlocks your IIoT potential thanks to Heartbeat Technology - provides a wealth of data for predictive maintenance without interruption to your process
The smart way to improve process safety
The challenge: Many industries are challenged with finding qualified personnel and major plant upgrades often involve service providers whose personnel do not have thorough knowledge of the equipment and systems on site.
In recent years, the chemical industry specifically has also seen a significant rise in the proportion of safety-critical systems and complex proof tests requiring even more specialized training or knowledge. However, maintenance in these areas cannot interfere with plant availability.
The solution: The new Cerabar and Deltabar pressure transmitters from Endress+Hauser are simple to operate and more efficient to maintain in safety-critical systems without compromising plant safety. With this new family of pressure transmitters, you are benefitting from Industry 4.0 innovations by reducing the effort required for repeat tests and relieving the burden on personnel.
Connect to IIoT
Heartbeat Technology is the basis for the realization of future-oriented IIoT strategies such as predictive maintenance or the detection of irregularities in the process. The new Cerabar and Deltabar pressure transmitters detect deviations in loop resistance or blocked impulse lines. They record additional measured variables such as pressure peaks. IIoT applications use this data to derive load profiles for surrounding plant components, thus enabling predictive maintenance.
Increased productivity through digitally optimized processes
Cerabar and Deltabar can be configured and verified quickly and easily with the SmartBlue app via the Bluetooth® interface. Thanks to Heartbeat Technology, verification is completed in 15 seconds - without interrupting the process. The pressure gauges signal any anomalies by status messages in accordance with NAMUR NE107. The maintenance personnel know exactly what action to take, as the error codes are displayed in plain text. This optimizes processes and increases productivity.
Pressure and Temperature measurement can be found in almost all types of industries from food and pharmaceutical industries where hygiene is of the utmost importance to the chemical, oil and gas and pulp and paper industries where robust reliable instrumentation to suit hazardous conditions are necessary.