Carotek Process Solutions Summit 2019
Annual event showcasing process equipment manufacturers, classes, demonstrations, hands-on labs as well as industry networking and more.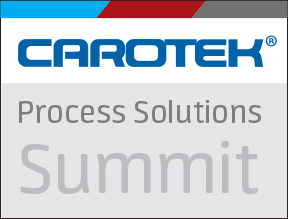 Our 2019 Event will be held October 9 - 10, 2019
Instrumentation, Valves, Pumps & Blowers, Thermal/Heat Transfer, Process Control
World-class equipment manufacturers exhibiting Products and Solutions
Hands-on Shop Bench workshops, Live demos, Class sessions!
Technical Knowledge and Best Practice learning
PDH Credits for Professional Development hours
This event is free for Carotek customers and industry colleagues.
Registration is now closed.
Process Solutions Summit Summary
Our 2-day event brings together key individuals from companies in our industry to network and learn about new technologies emerging in the marketplace to take our customers to the next level. Our event is held in our Matthews NC headquarters, a suburb of Charlotte NC, where you can experience first-hand our modern manufacturing Process Training Unit.
Classes offered include:
Endress+Hauser
Optimize Your Supply Chain With Inventory Management Solutions
Empowering the Mobile Worker: Carefree running of Production with IIoT Services
Optimize calibration + verification efficiencies vin the Food and Beverage industry
Improve Your Process Safety: Introduction to Functional Safety (SIL)
Reduce Cost and Improve Efficiency in your Process Steam Plant with Advancements in Vortex Flow Technology
Advancements in Point Level and High-Frequency Free Space Radar
Electronic Differential Pressure Measurement - Advantages and Disadvantages vs. Traditional Impulse Lines and Oil-Filled Capillaries
Renewable Energy from Biogas via Anaerobic Digesters
Pepperl+Fuchs
The Mobile Connected Worker
Kaiser Process
How to Measure Your Entire Process Online with a Single Probe
Hardy Process
Weighing 101 - How to Select a Weighing Solution for Your Process that Optimizes ROI, Reduces Downtime and is the Least Total Cost to Own
Advanced Valve
Stop Living in Isolation - Select and Write Better Valve Spec's
Valtek
How Strong is your Weakest Link ?
Flowserve
Get Smart…with Control Valve Diagnostics via Smart Technology
DeZurik
Make It Rain! How proper Valve Selection in the Pulp & Paper Industry can increase profits
Smith & Loveless
Have the Rules Changed for Vortex Grit Removal?
Viking Pump
Viking Internal Gear Hands-On training
Carotek
Best practices to kill your pump!
Warren Rupp/Sandpiper
SandPiper Air Operated Double Diaphragm Pump Hands-On Class
Gardner Denver
Moving Air - What are the technologies available for aeration and pneumatic conveying applications
PPC Mechanical Seals
Evolution of Sealing Technology
IDEX Corporation
The difficult process of selecting Positive Displacement Pumps
Rockwell Automation
Develop Analytics That Scale Using FactoryTalk® InnovationSuite
Using EtherNet for Process Control
Batch Management: Overview and What's New and What's Next
Trends in the W&WW Industry
Power Quality
Armstrong
Optimizing Plant Utilities
The Evolution of Wireless Technology (with Everactive)
Eaton Filtration
Automatic Filtration Technologies
Thermon
Heat Trace in the Workplace
Charlotte Water
Preparing for the Implementation of an Ammonia Based Aeration Control (ABAC) Process
Maximizing the Flexibility of your Treatment Plant Design for Phosphorus Removal
Stay the Weekend
Stick around and explore Matthews and Charlotte, NC (second fastest growing city in the nation). Check out these great travel resources.
Trip Advisor - Reviews of Matthews NC places
Charlotte's Got A Lot - Official resource for Charlotte, NC. Order a travel guide. Find events, restaurants, nightlife, hotels, attractions, culture & more.
Visit NC - Charlotte - The southern foothills area has a mixture of NASCAR, scenic beauty, shopping and a chic urban arts scene.
2019 Charity Fundraiser at PSS
Since we are providing this event free, we would like to ask your support in raising funds to support an ALS Fundraiser in honor of our founder, Addison Bell. Mr. Bell passed away from ALS in 2015. Your support will help the ALS Association North Carolina chapter, where everything they do supports the discovery of effective treatments and a cure for ALS. The Chapter supports nearly 800 families per year who are currently struggling with their battle against ALS. Our goal is to raise $10,000.
Parking
Please park at:
Matthews Park & Ride, Independence Pointe Pkwy (behind the Hampton Inn)
We will have shuttle buses that run throughout the day from each of the hotels and the Park & Ride beginning at 7:00am.
If you plan to stay for the Wednesday evening social, we will have shuttles available all evening.
Hotels
Below are a list of suggested hotels with special event rates:
Courtyard Marriott
11425 East Independence Blvd, Matthews, NC 28105 | 704-846-4466
$119/ per night
3.4 miles from Carotek
*Mention Carotek Process Solutions Summit event. You also will be entitled to any reward points you accumulate at the respective hotel.
Holiday Inn Express
9420 East Independence Blvd, Matthews, NC 28105 | 704-443-3100
$99/ per night
1.3 miles from Carotek
*Mention Carotek Process Solutions Summit event. You also will be entitled to any reward points you accumulate at the respective hotel.